NEWS FEED
---
I'm planning to remove celshade from my commission list 'til I'm finally comfortable with doing celshade. But if you like my current style, you can try to get it. Just let me know about it. Thank you!
---
On going event : None | Ends in :
---
about me
---
Sugar morning
Visual artist and designer | Animator | Singer and voice actress
Hello, welcome to my site!
My name is Sugar Morning. I do arts for living. I've been creating cute pony arts since 2011. I really want to be a great animator. Wish me luck!All my links here :
Sugar Morning's Linktree
---
commission list
---
The prices in this list are base prices, the final price may vary depending on your commission complexity. For extras, check out extras tab on the bottom of this price list. If there's any question regarding the commission, please contact us.
NB : All commission prices are in EUR (€), make sure to send the payment in right currency
* last update : 24th January 2022
---
SKETCH piece
Headshot 15€
Fullbody 30€
Sugar Morning's style sketch, colors and shading included.
+ 15€ per additional headshot
+ 25€ per additional fullbody ---
Shaded piece
Headshot 25€
Fullbody 50€
Sugar Morning's default shading style.
+ 20€ per additional headshot
+ 45€ per additional fullbody
---
reference sheet
Starts from 50€
Simple but fully functional, artist friendly reference sheet. It consists of 2 fullbody (showstyle or handdrawn), 1 color palette, and 1 cutie mark.+ 15€ per additional headshot
+ 30€ per additional fullbody
+ Additional info might cost more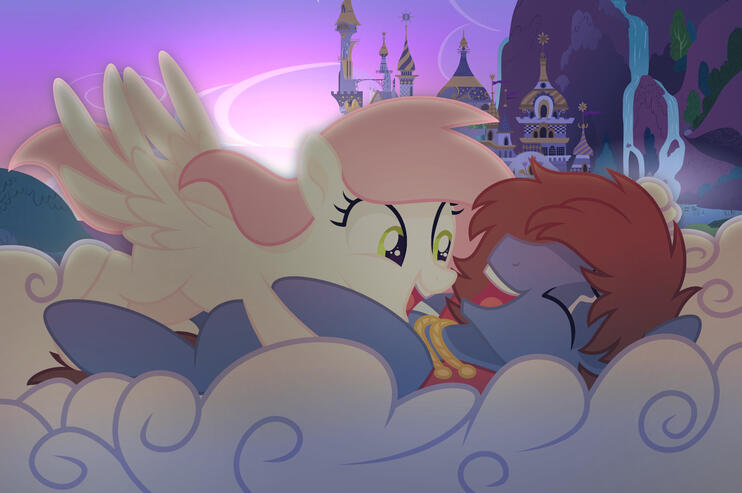 ---
animation
Frame by frame animation
Price depends on complexity and length but the base price would be 3x normal commission price.Example :2 Fullbody Sketch x Animation Fee
( 30€ + 25€ ) x 3 = 165€1 Headshot Celshade x Animation Fee
( 25€ ) x 3 = 75€
---
extras
+ 25€ NSFW
+ 25€ anthro
+ 25€ timelapse video
+ Background price depends on complexity
+ Complicated design or accessories might cost more depends on complexity
+ Deadline under 7 days might cost more depends on complexity
---
Terms and Conditions
---
If you're reading this, it means you're probably interested in commissioning me, thank you! So there are some stuff you need to pay attention before commissioning me, hopefully this TOC can give you an idea of how I work
WHAT TO COMMISSION
I can draw anything but I specialize in drawing ponies. If it's not ponies, it probably won't be as good but definitely doable.
If you need something but it doesn't exist on the commission list, feel free to contact me and let's see if I can help you.
---
Ponies
Furries
Suggestive & NSFW
Semi-grimdark
Original species
Custom designs
Equestria Girls
Humans
Extreme fetishes
Grotesque
Foalcon
Offensive contents
What I don't like
drawing*
---
Sketches
Doodles
YCHs
Ponies
Cute stuff
Food
Animations & Animatics
Solo character drawing
Shaded
Feral animals
Backgrounds
Anthros
High detailed items
Characters more than one
*Despite me disliking these, it doesn't mean I'm not accepting them. Since I put my heart in it, the result will be better if I like what I'm drawing. However, by accepting ideas I don't like, I will be able to learn more things. So feel free to tell me any ideas you have.
HOW TO ORDER A COMMISSION
1. Check out my price list.
2. Check out my TOC.
3. Prepare your ref sheets and desired requests. You need to have at least one drawing of your character as a guide, no matter how simple it is. New character design (or from text description) might cost more.
4. Talk to Bizarre Song on Twitter, Derpibooru, or Discord
5. Wait until the commission is finished, I don't really have estimation time but you can ask for updates.
6. When it's done and you have made the payment, Bizarre will send you the high resolution drawing.
other THINGS YOU want TO KNOW
> I'm very introverted and it's difficult for me to talk to people, so it will be very appreciated if you're nice and polite. This is also a reason why my commission is managed by someone else.
> No bribing or no guilt tripping. If you're blacklisted, I won't be accepting commissions from you again.
> I put my heart in it in every art piece I made. I can work quite fast but to make sure I can provide you with the best result, please be patient. If you need it for certain date please let me know beforehand.
> I use multiple brushes for my arts and I often experiment so my style might be inconsistent. So if you don't like my style, don't commission me.
> You're allowed to set deadlines and you won't be charged if it's not under 7 days.
> Usually I'm pretty generous to give versions but some versions might cost more.
> If you don't get your commission in 2 months or more, please inform Bizarre asap. We're not perfect and might forget :')
> All payments are made upfront.
> I only accept Paypal payments in EUR. If you sent the wrong currency, we will have to refund.
> You can't ask for a refund once you've sent the payment, unless something happened and it doesn't let me finish your commission (eg. My PC broke).
> If you want me to make it private, please let me know before I get to finish your commission. However, on default I'm entitled to post your commission anywhere without asking first. If you forget to inform me and would like me to take down the post, just let me know and I'd gladly grant your take down request.
> You can publish and share my commission results anywhere including printing and selling them. You are not allowed to sell my arts if you didn't commission them (this includes canon characters). If you make merchs and want to work together with me, please let me know. You are NOT ALLOWED to put my arts as NFTs even if you commissioned it. If I find you do it anyway, you will be blacklisted.
> You can ask me for more informations.
---
Contacts
---
Need something? Just let us know right away!
You can also reach out to us on my Derpibooru or Discord
---